Message from Eddie Kardas
"I have had a passion for learning as much as I can about Negotiating de-escalation in difficult and aggressive situations for over 35 years. I have learnt from many courses I have attended as a participant. I have learnt a lot from being in those situations myself as serving member of the Victoria police. I have also learnt a lot from staff I have coached and trained over 21 years.
In some of that learning I know about the left and right side function of the brain. I have been taught about the four personality types. I have done courses that advocate a seven step method. I have found none of that information helped me in the heat of battle when dealing with a very angry person."
CRTC training is practical and designed to maximise transfer of learning back into the workplace. If you want to remember things for life the teaching should incorporate aspects of :Seeing Hearing Doing and Reviewing.
Courses Offered
Level 1- Manage Conflict Through Negotiation
This course has a strong Customer Service focus, concentrating on Prevention and De-Escalation techniques.
Dealing with Customer behaviour such as -:
Emotional
Frustrated
Upset
Distressed
Level 2 – Advanced Aggression Management
Work Health Safety is now the focus.
This advanced course looks at safely managing Customer behaviour that can become -:
Abusive
Aggressive
Threatening
Violent
Refresher Training
Refresher training is offered and depending on the level of training previously experienced CRTC customises to not only refresh but increase the level of training.
In our classroom session experiential learning (Role Play) is offered and highly recommended but not compulsory.
No role play with the instructor in front of the class. This can be embarrassing and unrealistic. CRTC experiential learning is done one on one, not in front of the class. We use professional Method Actors and with your permission we videotape. This vision can be used for further individual learning purposes.
To enhance success in Managing or de-escalating a difficult situation your strategy must be simple. Simple under pressure has a much better chance of working.
Complicated strategies in the heat of battle have a very low chance of working. We do not advocate 5 step this – 7 –step that.
CRTC courses use simple strategies designed to -:
Increase knowledge
Improve technique and skill
Build confidence.
The new age of Industry Managing Covid 19 has additional challenges.
For additional information regarding elements of competency on Level 1 & Level 2 courses contact CRTC.
Eddie Kardas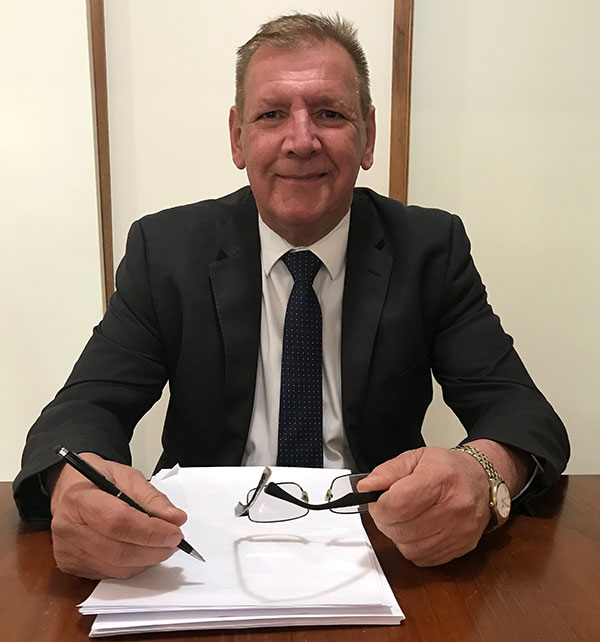 Eddie has been described as a passionate presenter full of great practical suggestions to improve negotiating de-escalation.
Eddie was a serving member of the Victoria Police for 16 years.
Qualifications.
State Hostage Negotiator Course
National Anti-terrorist Negotiation Course
Qualified at Quantico, FBI Hostage Negotiation Course
Instructor – Victoria Police – Operational Safety and Tactics
Certificate IV Training & Assessing
Eddie has been corporately engaged as a professional facilitator since 1999.
Joey Herrech
Joey spent 20 years serving Victoria Police, eventually retiring in 2015 at the rank of Acting Senior Sergeant. Within Joey's career, he spend his first 6 years as an operational police member as well as most of that 6 year period as an Operation Safety Tactics Training. Within that period, he was responsible for training all ranks of police in the safe tactical use of their equipment, their defensive tactics and their negotiating skills. This included training members on basic community interactions, all the way up to forced building entry and hostage or siege negotiation tactics.
For the middle third of Joey's career, he was accepted into an international deployment initiative that saw him deployed to Sudan, Kenya, Egypt, North/South America, Canada, Cambodia and Singapore. The purpose of these deployments was to fact find, to support humanitarian missions overseas or strengthen security initiatives within locations at high risk of conflict. For the last 3rd of Joey's career, he headed up the Southern Metro Proactive Programs area out of the Dandenong Police Station.
This involved managing a specialist unit of police responsible for investigating or supporting investigations around high end multicultural, youth and community based crime and concerns. In the last several years of Joey's career with Victoria Police, he had a strong focus on the multicultural gang issue in the Southern Metro Region.
His interest in this area, eventual lead him to resign from Victoria Police and take up a leadership role with a non-government agency in Dandenong specifically focussing on the youth gang issue in the region.
After several years in this role, he was offered his current position with CRTC as a Senior National Trainer and leap at the opportunity to support a diverse national workforce in learning the strategies and best practice models of managing conflict resolution and heightened human behaviours.
Joey has had over 25 years of professional educating a diverse audience and has professionally represented Victoria Police in a number of national and international forums. He has MC'ed large public events and has made a number of media appearances on behalf of the Chief Commissioner of Police, Executive Management and other organisations to a variety of audiences locally, nationally and internationally.